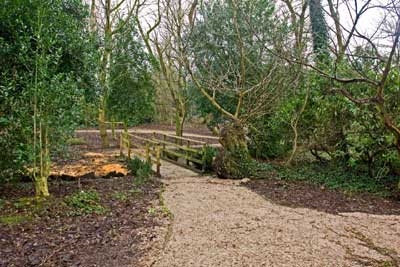 East Park Drive

,

Blackpool

,

Lancashire

,

FY3 9HQ

From £0.00 Per Ticket
Description
Salisbury Woodland is an attractive green space, planted in the mid 1930's to serve as a public recreation area as well as shelterbelt for Stanley Park Golf Course. Blackpool Council's Ranger Service manages the site with assistance from Volunteer Rangers, Millennium Volunteers and MBW Training.

The gardens boast many native and exotic trees and shrubs, giving you the opportunity to admire species of many countries, within a few acres of land. A diversity of wildlife resides here. If you look carefully, you will see birds such as Kingfishers darting along the stream as well as Tree Creeper, Greater Spotted Woodpecker and Blackcap. The woodland also supports colonies of Pipistrelle bats that feed on insects at night, butterflies such as Orange Tip, Speckled Wood and Peacock as well as dragonflies that lay eggs in the adjacent golf course ponds.

Look for the garden's wartime pill box to the east of the site and then view the old aircraft hangers at Blackpool Zoo facing the car park.

Openings
Daily
Thu 1st January 2009 - Thu 31st December 2015
| Day | Times |
| --- | --- |
| Monday | 00:00 - 00:00 |
| Tuesday | 00:00 - 00:00 |
| Wednesday | 00:00 - 00:00 |
| Thursday | 00:00 - 00:00 |
| Friday | 00:00 - 00:00 |
| Saturday | 00:00 - 00:00 |
| Sunday | 00:00 - 00:00 |
| BankHoliday | 00:00 - 00:00 |
Daily
Fri 1st January 2010 - Sat 31st December 2016
| Day | Times |
| --- | --- |
| Monday | 00:00 - 00:00 |
| Tuesday | 00:00 - 00:00 |
| Wednesday | 00:00 - 00:00 |
| Thursday | 00:00 - 00:00 |
| Friday | 00:00 - 00:00 |
| Saturday | 00:00 - 00:00 |
| Sunday | 00:00 - 00:00 |
Daily
Sat 1st January 2011 - Sun 31st December 2017
| Day | Times |
| --- | --- |
| Monday | 00:00 - 00:00 |
| Tuesday | 00:00 - 00:00 |
| Wednesday | 00:00 - 00:00 |
| Thursday | 00:00 - 00:00 |
| Friday | 00:00 - 00:00 |
| Saturday | 00:00 - 00:00 |
| Sunday | 00:00 - 00:00 |
Tickets
| Ticket | Price |
| --- | --- |
| Free Admission | £0.00 |