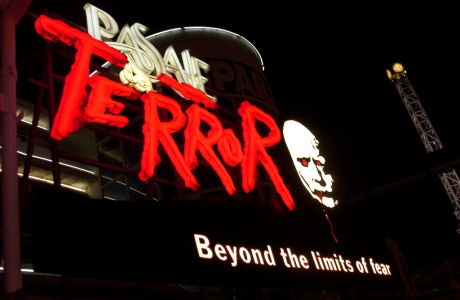 Pleasure Beach Resort

,

Blackpool

,

Lancashire

,

FY4 1EZ

From £8.00 Per Ticket
Description
Fear is one of the most primal human emotions, consisting of both a physiological and emotional response.

Passage of Terror© utilises this notion to provoke the inner fear within all our customers, to evoke a terrifying, exciting and unforgettable ordeal.

In the Passage of Terror©, customers become victims in their very own horror movie.

The full benefit of a live production is utilised comprehensively to ensure each experience is completely unique. With extensive training actors, like predators will wait patiently within their familiar surroundings to deliver an unexpected and unpleasant surprise to the astonished visitors. Depending on the group, actors will strike wit different force and from different areas to ensure a fright is always guaranteed.
Openings
2011
Wed 2nd March 2011 - Sun 6th November 2011
February
Sat 11th February 2012 - Sun 26th February 2012
| Day | Times |
| --- | --- |
| Saturday | 10:30 - 17:00 |
| Sunday | 10:30 - 17:00 |
Please contact directly for opening times.
March
Sat 3rd March 2012 - Sat 31st March 2012
| Day | Times |
| --- | --- |
| Saturday | 10:30 - 17:00 |
| Sunday | 10:30 - 17:00 |
2012
Sun 1st April 2012 - Sun 4th November 2012
2013
Mon 1st April 2013 - Sun 10th November 2013
2014
Tue 1st April 2014 - Mon 10th November 2014
2015
Wed 1st April 2015 - Tue 10th November 2015
2016
Fri 1st April 2016 - Thu 10th November 2016
2017
Sat 1st April 2017 - Fri 10th November 2017
Tickets
| Ticket | Price |
| --- | --- |
| Adult Ticket | £8.00 |