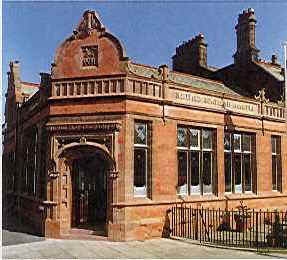 2 Henry Street

,

Lytham St Annes

,

Lancashire

,

FY8 5ES
Description
Lytham Heritage Group was established in 1987 to preserve and promote the history of the Ancient Parish of Lytham, which includes St Annes, Kilgrimol, Heyhouses, Fairhaven, Ansdell, Lytham and Saltcotes.

The Group with its large and active membership, regularly presents exhibitions and speakers. It also has wide-ranging facilities including the Heritage Centre for exhibitions, the Archive Centre, and the Windmill Museum.

Lytham Heritage Group now occupies the Grade II listed building which was originally built in 1899 for the Manchester and County Bank and later used by the Trustees Savings Bank.

The interior has been enhanced by careful restoration and converted into an exhibition centre of considerable charm, providing a splendid backdrop of late Victorian architecture to complement the new and modern piazza in the town centre.

The Lytham Heritage Centre is equipped with a high quality security system and UV screened windows and is ideal for exhibitions, as a gallery and other similar events.
Openings
The centre is closed on Mondays.
Lytham Heritage Group
Tue 1st January 2008 - Wed 31st December 2008
| Day | Times |
| --- | --- |
| Tuesday | Closed |
| Wednesday | Closed |
| Thursday | Closed |
| Friday | Closed |
| Saturday | Closed |
| Sunday | Closed |
Lytham Heritage Group
Thu 1st January 2009 - Thu 31st December 2009
| Day | Times |
| --- | --- |
| Tuesday | Closed |
| Wednesday | Closed |
| Thursday | Closed |
| Friday | Closed |
| Saturday | Closed |
| Sunday | Closed |
Lytham Heritage Group
Fri 1st January 2010 - Fri 31st December 2010
| Day | Times |
| --- | --- |
| Tuesday | Closed |
| Wednesday | Closed |
| Thursday | Closed |
| Friday | Closed |
| Saturday | Closed |
| Sunday | Closed |
Lytham Heritage Group
Sat 1st January 2011 - Sat 31st December 2011
| Day | Times |
| --- | --- |
| Tuesday | Closed |
| Wednesday | Closed |
| Thursday | Closed |
| Friday | Closed |
| Saturday | Closed |
| Sunday | Closed |
Lytham Heritage Group
Sun 1st January 2012 - Mon 31st December 2012
| Day | Times |
| --- | --- |
| Tuesday | Closed |
| Wednesday | Closed |
| Thursday | Closed |
| Friday | Closed |
| Saturday | Closed |
| Sunday | Closed |
Lytham Heritage Group
Tue 5th February 2013 - Sun 15th December 2013
| Day | Times |
| --- | --- |
| Tuesday | Closed |
| Wednesday | Closed |
| Thursday | Closed |
| Friday | Closed |
| Saturday | Closed |
| Sunday | Closed |
Lytham Heritage Group
Wed 5th February 2014 - Mon 15th December 2014
| Day | Times |
| --- | --- |
| Tuesday | Closed |
| Wednesday | Closed |
| Thursday | Closed |
| Friday | Closed |
| Saturday | Closed |
| Sunday | Closed |
Lytham Heritage Group
Thu 5th February 2015 - Tue 15th December 2015
| Day | Times |
| --- | --- |
| Tuesday | 10:00 - 16:00 |
| Wednesday | 10:00 - 16:00 |
| Thursday | 10:00 - 16:00 |
| Friday | 10:00 - 16:00 |
| Saturday | 10:00 - 16:00 |
| Sunday | 10:00 - 16:00 |
Lytham Heritage Group
Fri 5th February 2016 - Thu 15th December 2016
| Day | Times |
| --- | --- |
| Tuesday | 10:00 - 16:00 |
| Wednesday | 10:00 - 16:00 |
| Thursday | 10:00 - 16:00 |
| Friday | 10:00 - 16:00 |
| Saturday | 10:00 - 16:00 |
| Sunday | 10:00 - 16:00 |