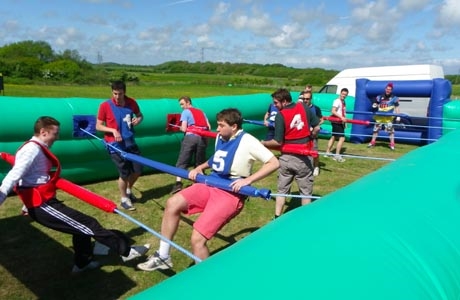 Whyndyke Farm

,

Blackpool

,

Lancashire

,

FY4 4XQ

From £15.00 Per Ticket
Description
Impact Blackpool is Blackpool's premier outdoor activity centre open all year round offering adventure seekers the chance to have a go at Paintball, Outdoor Laser tag, Archery, Air Rifle Shooting, Segway Games and much more when looking for Things to do in Blackpool. Join the thousands of visitors each year and give Impact Blackpool a try – its guaranteed to be a day you will be talking about for a while!
We are located at Whyndyke Farm - which is only two minutes from the M55 Junction 4 and only a couple of miles from the Blackpool Town Centre. We're open seven days a week for activities for any occasion from Birthdays, Family Days out to just you and a group of friends.
Openings
Open Daily
Wed 1st January 2014 - Wed 31st December 2014
| Day | Times |
| --- | --- |
| Monday | Closed |
| Tuesday | Closed |
| Wednesday | Closed |
| Thursday | Closed |
| Friday | Closed |
| Saturday | Closed |
| Sunday | Closed |
We are open seven days a week. Due to demand you must book your activity in advance by either calling us on 01253 767279 or booking online.
Open Daily
Thu 1st January 2015 - Thu 31st December 2015
| Day | Times |
| --- | --- |
| Monday | 10:30 - 18:30 |
| Tuesday | 10:30 - 18:30 |
| Wednesday | 10:30 - 18:30 |
| Thursday | 10:30 - 18:30 |
| Friday | 10:30 - 18:30 |
| Saturday | 10:30 - 18:30 |
| Sunday | 10:30 - 18:30 |
Open Daily
Fri 1st January 2016 - Sat 31st December 2016
| Day | Times |
| --- | --- |
| Monday | 10:30 - 18:30 |
| Tuesday | 10:30 - 18:30 |
| Wednesday | 10:30 - 18:30 |
| Thursday | 10:30 - 18:30 |
| Friday | 10:30 - 18:30 |
| Saturday | 10:30 - 18:30 |
| Sunday | 10:30 - 18:30 |
Open Daily
Sun 1st January 2017 - Sun 31st December 2017
| Day | Times |
| --- | --- |
| Monday | 10:30 - 18:30 |
| Tuesday | 10:30 - 18:30 |
| Wednesday | 10:30 - 18:30 |
| Thursday | 10:30 - 18:30 |
| Friday | 10:30 - 18:30 |
| Saturday | 10:30 - 18:30 |
| Sunday | 10:30 - 18:30 |
Tickets
| Ticket | Price |
| --- | --- |
| Air Rifle Shooting | £15.00 |
| Archery | £15.00 |
| Outdoor Laser Tag | £15.00 |
| Paintball | £15.00 |
| Segways | £30.00 |
Information