Fylde Gallery Activities for 2016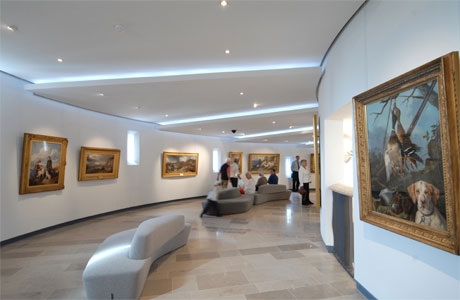 Booths Supermarket

,

Lytham

,

Lancashire

,

FY8 5EG

From £0.00 Per person per day
Description
Exhibitions throughout the year from various artists and organisations.
Drawn from Youth VI - March 9th to April 8th - The exhibition showcases 6th form work from schools in Blackpool and The Fylde Annual Exhibition.
Lytham St Annes Art Society - April 15th to May 8th - Spring Exhibition of selected works submitted by Art Society members.
Textiles & Needlework - May 11th to 4th June - Examples of creative textile work and book binding.
The Art of Beating Bullies - 5th June to 17th June - Artwork from local schools together with professional artists explore the bullying theme.
A Sense of Time, A Sense of Place - 20th June to 4th August - Local artists exploring the Fylde landscape in variety of media.
Blackpool Art Society - 9th August to 4th September - Summer Exhibition of works submitted by society members.
Lytham St Annes Art Collection - 8th September to 13th November - LIVERPOOL the connection of Liverpool to the artists and artworks within the Public Collection.
LCC Museums Service - 16 November to 4th December - Roller Skating Lancashire
Lytham St Annes Photographic Society - 6th December to 9th January - Photographs from society members
Openings
Drawn from Youth VI
Wed 9th March 2016 - Fri 8th April 2016
| Day | Times |
| --- | --- |
| Monday | 10:00 - 16:00 |
| Tuesday | 10:00 - 16:00 |
| Wednesday | 10:00 - 16:00 |
| Thursday | 10:00 - 16:00 |
| Friday | 10:00 - 16:00 |
| Saturday | 10:00 - 16:00 |
| Sunday | 10:00 - 15:30 |
LSA Art Society
Fri 15th April 2016 - Sun 8th May 2016
| Day | Times |
| --- | --- |
| Monday | 10:00 - 16:00 |
| Tuesday | 10:00 - 16:00 |
| Wednesday | 10:00 - 16:00 |
| Thursday | 10:00 - 16:00 |
| Friday | 10:00 - 16:00 |
| Saturday | 10:00 - 16:00 |
| Sunday | 10:30 - 15:30 |
| BankHoliday | 10:30 - 15:30 |
Textiles & Needlework
Wed 11th May 2016 - Sat 4th June 2016
The Art of Beating Bullies
Sun 5th June 2016 - Fri 17th June 2016
A Sense of Time, A Sense of Place
Mon 20th June 2016 - Thu 4th August 2016
Blackpool Art Society
Tue 9th August 2016 - Sun 4th September 2016
LSA Art Collection
Thu 8th September 2016 - Sun 13th November 2016
LCC Museums Service
Wed 16th November 2016 - Sun 4th December 2016
LSA Photographic Society
Tue 6th December 2016 - Mon 9th January 2017
Monday to Saturday 10am to 4pm, Sunday 10:30am to 15:30pm
Tickets
| Ticket | Price |
| --- | --- |
| Free Admission | £0.00 |