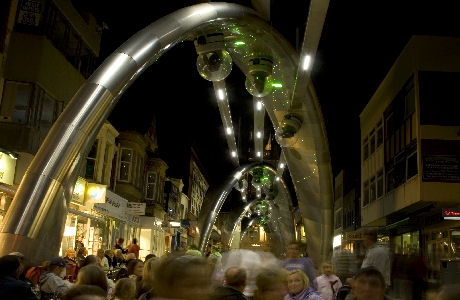 Birley Street

,

Blackpool

,

Lancashire

,

FY1 1EG

From £0.00 Per Ticket
Description
Have you ever seen a family dance down a street? It happens every night in Blackpool!
Enjoy the magic of the Brilliance light shows as dancing lights, swirling lasers and all your favourite tunes tempt you to join the party beneath huge, sparkling silver archways.
Brilliance is a synchronisation of moving light, pattern, colour and sound, focusing on the pedestrianised Birley Street in the town centre, with supporting structures on the surrounding streets. The show features an introduction from The Pet Shop Boys, and includes their music as the soundtrack to the show. New shows are created to fit seasons, festivals and events in Blackpool.
Join us at Brilliance for special seasonal celebrations, when the lights join in with the festivities – a perfect FREE attraction for all ages to enjoy.
Openings
All Year
Fri 1st January 2010 - Fri 31st December 2010
| Day | Times |
| --- | --- |
| Monday | Closed |
| Tuesday | Closed |
| Wednesday | Closed |
| Thursday | Closed |
| Friday | Closed |
| Saturday | Closed |
| Sunday | Closed |
All Year
Sat 1st January 2011 - Sat 31st December 2011
| Day | Times |
| --- | --- |
| Friday | Closed |
| Saturday | Closed |
All Year
Sun 1st January 2012 - Mon 31st December 2012
| Day | Times |
| --- | --- |
| Friday | Closed |
| Saturday | Closed |
Brilliance is currently operanting on Friday & Saturday nights only
All Year
Tue 1st January 2013 - Tue 31st December 2013
| Day | Times |
| --- | --- |
| Friday | Closed |
| Saturday | Closed |
All Year
Wed 1st January 2014 - Wed 31st December 2014
| Day | Times |
| --- | --- |
| Friday | Closed |
| Saturday | Closed |
All Year
Thu 1st January 2015 - Thu 31st December 2015
| Day | Times |
| --- | --- |
| Friday | 00:00 - 00:00 |
| Saturday | 00:00 - 00:00 |
All Year
Fri 1st January 2016 - Sat 31st December 2016
| Day | Times |
| --- | --- |
| Friday | 00:00 - 00:00 |
| Saturday | 00:00 - 00:00 |
All Year
Sun 1st January 2017 - Sun 31st December 2017
| Day | Times |
| --- | --- |
| Friday | 00:00 - 00:00 |
| Saturday | 00:00 - 00:00 |
Tickets
| Ticket | Price |
| --- | --- |
| Free Admission | £0.00 |